AR-15 / M16 50 Round Drum Magazine .223/5.56
Availability: Out of stock
| Item #: ACC-AR15-50RD-DRUM
MPN: AR50D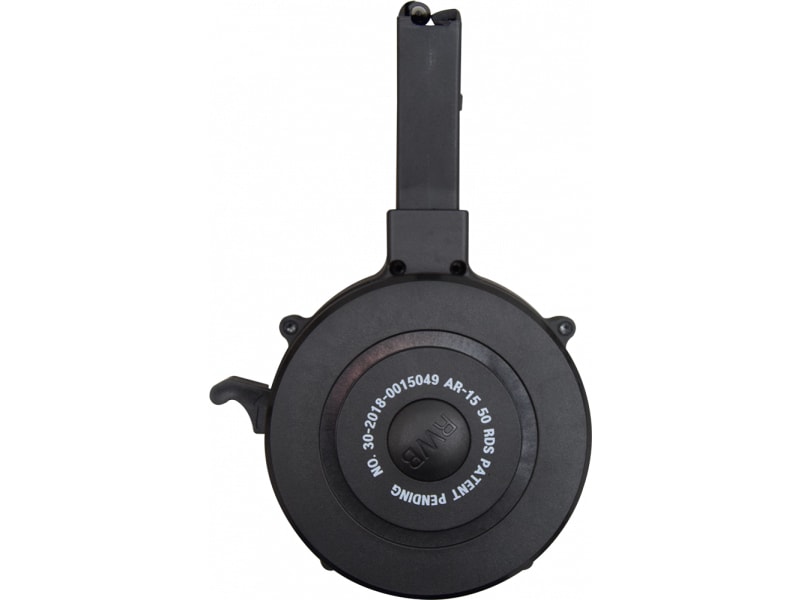 AR-15 / M16 50 Round Drum Magazine .223/5.56
Availability: Out of stock
| Item #: ACC-AR15-50RD-DRUM
MPN: AR50D
---
AR 15 drum mag, 50 round drum high capacity magazine for AR-15 and M16 use. Manufactured in South Korea for the Korean Military.
Brutus' Description
These 50 round drum AR magazines are super nice. They're manufactured in South Korea for the Korean Military for use in their M16 rifles but work equally well in AR-15 rifles. Made to exceed NATO Specs.
Specifications
Product Specs

AR-15 drum magazine
50 round capacity

Country of Manufacture
South Korea
License Requirement
None
Manufacturer
Korea RWB
Mfg. Part Number
AR50D
UPC
000000000000
Caliber/Gauge
.223 / 5.56
Action
No
Barrel Length
No
Barrel Twist
No
Barrel Bore Type
No
Barrel Finish
No
Barrel Fluting
No
Barrel Profile
No
Mount Type
No
Beam Color
No
Firearm Fit
AR-15
Threaded Barrel
No
Condition
New
Free Shipping
No
Manufacturer's Description
AR-15 / M16 high capacity 50rd drum mag. Manufactured in South Korea for Korean military use.
Others Also Viewed...


loading...