Heritage Rough Rider Revolver - 22LR with Color Case Hardened Frame & Laminated Grips
Availability: In Stock
| Item #: HGN-HRR22-CH6
UPC: 727962503829 | MPN: RR22CH6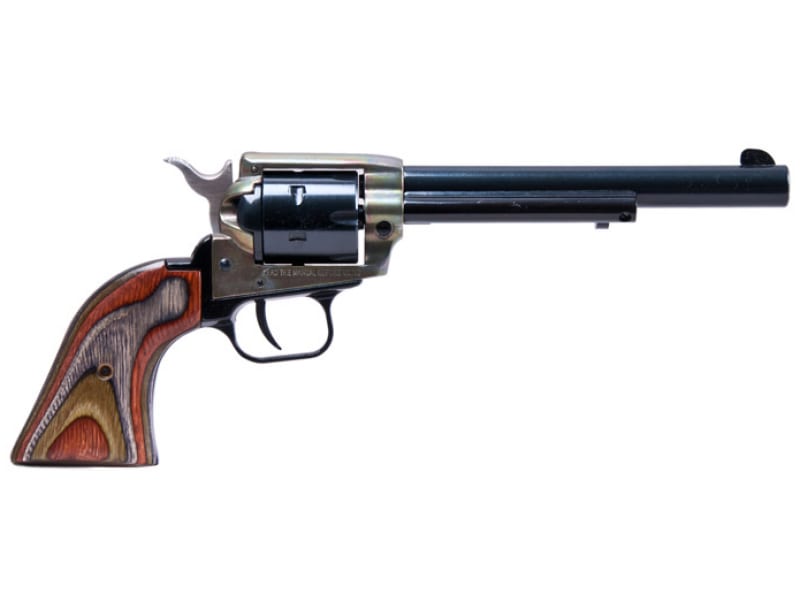 Heritage Rough Rider Revolver - 22LR with Color Case Hardened Frame & Laminated Grips
Availability: In Stock
| Item #: HGN-HRR22-CH6
UPC: 727962503829 | MPN: RR22CH6
---
This revolver was molded by the traditions of the wild west. The Heritage Rough Rider revolver RR22CH6 combines a classic look with modern functionality, this revolver chambers .22 LR, comes w/ a beautiful color case hardened frame, as well as new exotic laminated grips. The barrel of the handgun is micro-threaded and put into a frame for the perfect barrel/cylinder gap to provide maximum ammunition performance.

Brutus' Description
Born of the traditions of the Old West, the Rough Rider maintains much of the look and feel of the legendary Single Action Army revolver, only in a scaled down version. Chambered for the .22LR , the Rough Rider is manufactured using state-of-the-art precision machinery that assures its accuracy and reliability. The cylinder lock-up is tight and the perfect timing of the action makes for a handgun that will put its shots where you want 'em.
The machined barrel is micro-threaded and inserted into the frame for the optimal barrel/cylinder gap to give you maximum ammunition performance. A hammer block mounted in the recoil shield provides extra protection and has a red dot indicator that lets you know when the gun is ready for action. A new, more authentic looking flat-sided hammer paired with new exotic laminated grips, makes the Rough Rider both functional and handsome. This model comes in the highly desireable Color case hardened finish which gives the weapon an air of antiqued authenticity. I think they are beautiful.

When it comes to the Rough Rider there are no shortcuts taken!

Ideal for hunting, plinking or western action shooting, let the Rough Rider be your choice in a new rimfire revolver.
All Heritage revolvers combine quality and affordability ... an American tradition.


This has consistantly been one of the top selling handguns in the United States for the last 2 decades. And why not. They look great, they work great and they are at a great price.
This is the perfect glove box or field carry revolver and just tons of fun to shoot. I have one and we take it on family outings and everybody just loves to shoot it. It's affordable to own and inexpensive to shoot. What are you waiting for.....
Specifications
Product Specs

22LR


6 Shot Western Style

Single Action Revolver
6 " bbl Color Case Hardened Frame
By Heritage Arms

Country of Manufacture
United States
License Requirement
FFL
Manufacturer
Heritage Arms
Mfg. Part Number
RR22CH6
UPC
727962503829
Caliber/Gauge
.22 LR
Action
Revolver
Barrel Length
6.5
Threaded Barrel
No
Condition
New
Free Shipping
No
Manufacturer's Description
Heritage Rough Rider Revolver.22LR, 6" Barrel, With A Color Case Hardened Finish.
Others Also Viewed...


loading...